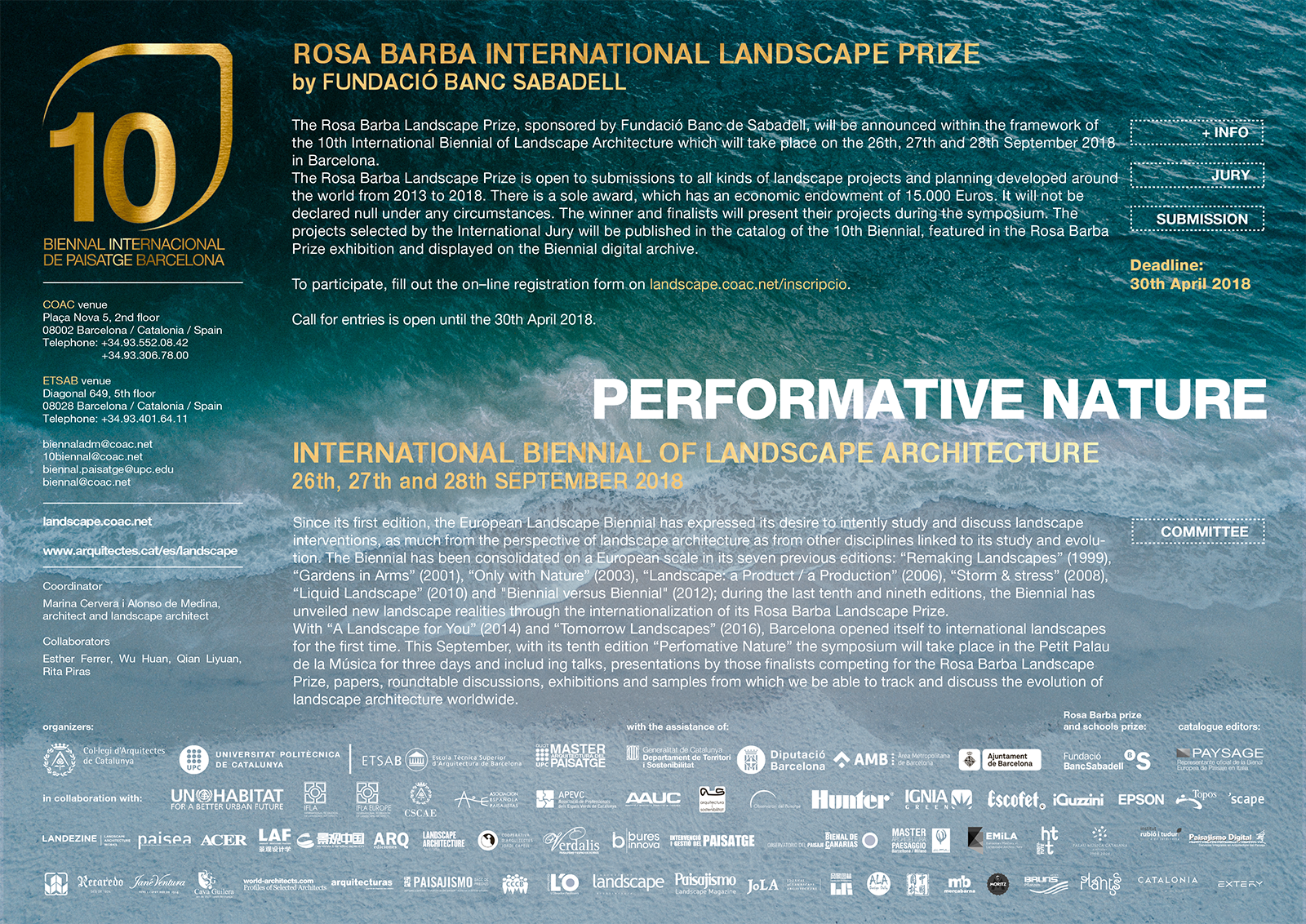 From European to International Biennial of Landscape Architecture
Since its first edition, the European Landscape Biennial has expressed its desire to intently study and discuss landscape interventions, as much from the perspective of landscape architecture as from other disciplines linked to its study and evolution. The Biennial has been consolidated on a European scale in its seven previous editions: "Remaking Landscapes" (1999), "Gardens in Arms" (2001), "Only with Nature" (2003), "Landscape: a Product / a Production" (2006), "Storm & stress" (2008), "Liquid Landscape" (2010) and "Biennial versus Biennial" (2012); during the last eighth​ and ​nineth editions, the Biennial has unveiled new landscape realities through the internationalization of its Rosa Barba Landscape Prize.
With "A Landscape for You"​ (2014) and "Tomorrow Landscapes" (2016),​ Barcelona opened itself to international landscapes for the first time. This September, with its ​tenth edition "​Perfomative Nature" the symposium ​will take place in the Petit Palau de la Música for three days and includ​ing talks, presentations by those finalists competing for the Rosa Barba Landscape Prize, papers, roundtable discussions, exhibitions and samples from which we be able to track and discuss the evolution of landscape architecture worldwide.
10th Barcelona Landscape Biennial: Performative nature
Climate change denial, resource depletion, the retreat of democracy, the proliferation of intolerance, and the vulnerability of people attacked in public spaces tempt us to fortify in the name of safety, to design defensive landscapes with defensive policies. Will tomorrow landscapes be as open, participatory, beautiful and sustainable as we imagined they could be? This moment of uncertainty, of regression, is no time for paralysis. It is time to perform, to become ecological and social activists in the shaping of our future habitats.
We need landscapes that embrace multi-performative natures. The spaces we collectively inhabit are opportunities for richer performances among people, places and natures. Tomorrow landscapes are indeed called to simultaneously perform ecological, social, and political roles.
In addressing these challenges as designers, we must also rethink beauty to construct emotionally performative natures.
Rosa Barba International Landscape Prize by Fundació Banc Sabadell
The Rosa Barba Landscape Prize, by Fundació Banc de Sabadell, will be announced within the framework of the 10th International Biennial of Landscape Architecture which was placed on the 26th to 28th September 2018 in Barcelona. The Rosa Barba Landscape Prize is open to submissions to all kinds of landscape projects and planning developed around the world from 2013 to 2018. There is a sole award, which has an economic endowment of 15.000 Euros. The winner and finalists presented their projects during the symposium that took place on the 27th September 2016. The projects selected by the International Jury will be published in the catalog of the 10th Biennial, featured in the Rosa Barba Prize exhibition by Fundació Banc Sabadell and displayed on the Biennial digital archive.
Scientific Commitee and International Jury
To see the members of the Scientific Committee and the International Jury, click here.
Contacts:
10TH INTERNATIONAL BIENNIAL OF LANDSCAPE ARCHITECTURE OF BARCELONA
COAC
Plaça Nova 5, 2nd floor
08002 Barcelona / Catalonia / Spain
Telephone: +34 93 552 08 42
                   +34 93 306 78 00
ETSAB
Diagonal 649, 5th floor
08028 Barcelona / Catalonia / Spain
Telephone: +34 93 401 64 11 
Phone calls preferably from 3 pm to 8 pm 
https://www.coac.net/landscape
https://arquitectes.cat/landscape
Organizers: